Words of Wisdom
Maintain a mind that is clear, lucid, still, and free from discrimination. A mind of stillness is samadhi. A mind of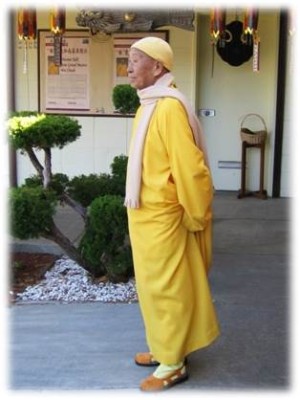 clarity and reason is wisdom. The oneness of samadhi and wisdom is the supreme bodhi mind.
這念心不生分別,保持不動,要清楚、要明白。不動就是定,清楚明白就是慧,定慧不二的這念心就是無上菩提心。
—Words of Wisdom from Grand Master Wei Chueh
(For more words of wisdom)
Diamond Sutra Ceremony
On Sunday, March 22, from 9:30 am to noon, Buddha Gate Monastery invites you to participate in our monthly ceremony and chant the Diamond of Perfect Wisdom Sutra. Chanting the sutra and prostrating to the Buddha allow us to repent our misdeeds, purify our karma, receive Buddha's blessings, and be in touch with our Buddha nature. Join us for a free vegetarian lunch immediately following the ceremony.
Sign up for Classes Now!

The next series of twelve week classes starts April 7. Click here to sing up.
Buddha Gate Monastery offers twelve-week classes of different levels in English and Chinese. The classes progress from the beginning Zen meditation and fundamentals of Buddhism, to advanced sutra studies. Each class meets for about two hours, consisting of meditation practice in the first hour, and a lecture on Buddhist teachings in the second hour.  Everyone is welcome. The classes are free; the Monastery is funded by unsolicited donations. Visit our website under "classes" for more details.