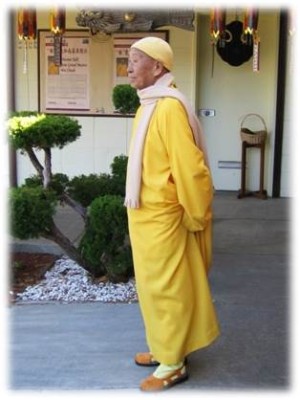 Words of Wisdom
We should act mindfully, knowing when to advance and when to retreat. If we do not advance when conditions are right, we lose opportunities. If we do not retreat when it is time, we invite disgrace. Making the right decision requires wisdom.
做人做事要知進知退,假使該進的時候不進,就坐失良機; 該退時不退,就自取其辱。要了解什麼時節該進、什麼時節該退,就要靠智慧去掌握。
—Words of Wisdom from Grand Master Wei Chueh
(For more words of wisdom)
Classes Start This Week!

The next series of twelve week classes starts January 12. Click here to sign up.
Buddha Gate Monastery offers classes of different levels in English and Chinese. The classes progress from beginning Zen meditation and fundamentals of Buddhism, to advanced sutra studies. Each class meets for about two hours, consisting of meditation practice in the first hour, and a lecture on Buddhist teachings in the second hour.  Everyone is welcome. The classes are free; the Monastery is funded by unsolicited donations. Visit our website under "classes" for more details.
New! Bodhi Youth Class For Children Ages 11 to 17
In response to many requests from parents, Buddha Gate Monastery is starting its first youth class for children ages 11 to 17. The Bodhi Youth class builds from the Bodhi Seed program and broadens its curriculum to an older group of students.  The class meets every other Friday night to meditate, learn about Buddhism, and practice applying its wisdom at home, school, and with friends. This engaging class is led by Venerable Master Jian Sheng, our Abbess.
One Stick of Incense

One Stick of Incense Buddhist Service consists of chanting the sutras in English, meditating, and Dharma talk. This process helps us purify our minds and develop our inner wisdom and compassion. We finish by dedicating merits to all sentient beings in hope that they will awaken to their pure natures, and obtain inner peace and joy. This one hour service starts at 10:30 a.m., is open to everyone and ideal for first-time visitors.
Dates: January 18 & 25, February 1, 8 & 15

Chinese New Year Celebration and Eighty-Eight Buddhas Repentance CeremonyOn Sunday, February 22 from 9:30 am to noon, Buddha Gate Monastery invites you to celebrate the Lunar New Year and participate in the Eighty-Eight Buddhas Repentance Ceremony. The Abbess will led the congregation in the ringing of the auspicious bell to bring forward a harmonious New Year. The ringing of the bell also reminds us to stay true to our awakening path to enlightenment.

Lamp Offering
Making a Lamp Offering to the Buddha is a way to honor the Buddha, while awakening our own intrinsic wisdom. According to the scriptures, when making a Buddha lamp offering, we gain good health, purity of the mind, freedom from worries, and extinction of ignorance. We can also dedicate the merits to our loved ones and all humanity. For the New Year, we invite you to make a Buddha Lamp Offering for a period of one year (January 1 to December 31).
Please contact Buddha Gate for more information.