Venerable Master Wei Chueh
In the early 1970's, Venerable Master Wei Chueh began a secluded, austere practice, living under extremely primitive conditions, but practicing the Dharma (teachings of the Buddha) with joy. Some twelve years later, he was discovered by some passersby; soon, he had many followers. He therefore established Ling Chuan Monastery, where his disciples could gather to study Buddhism and Chan meditation. There, the Venerable Master gave Dharma lectures and conducted many consecutive Chan seven-day meditation retreats. He was known as the master who revived the Chan (Zen) tradition in Taiwan. In time, Lin Chuan Monastery was no longer able to accommodate all who wished to practice. The Master then felt it was time to build a new monastery.
Chung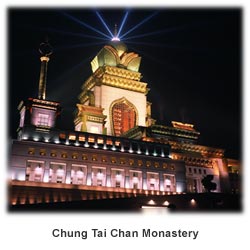 Tai Chan Monastery opened in 2001 in Puli, Taiwan, where it has become a hub for the study of Buddhism and Chan meditation. Establishing the monastery was a long and arduous task, but many offered financial assistance and volunteered their time, energy, and expertise.
In 1993, the Venerable Master founded the Chung Tai Buddhist Institute and the Pu Tai Schools in 2004. The Buddhist Institute consists of a Graduate School, College, and High School to educate monastic disciples and prepare them to teach the Dharma to others. The Pu Tai Elementary, Middle, and High Schools provide an all around education for youth, with an emphasis on compassion and wisdom.